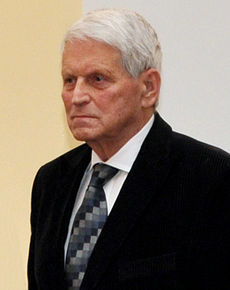 "Honesty, character and one's own opinion are still the only qualities of a person in the creative profession that can safely lead him to success."
From the book: Ivan Matušík – Life with architecture
Ivan Matušík was born in 1930 in the family of a post office clerk. He is a native of Bratislava and in Bratislava he graduated from grammar school and architecture at the Slovak University of Technology. He was one of the students of Emil Belluš, whom he respected very much and in the 1970s he collaborated on the publication of his first catalog. After graduating in 1953, he worked in the studio of Ján Svetlík, where he focused on the zoning plan of the city of Bratislava. Later he worked as a designer at the Military Institute or in Bratislava's Stavprojekt.
His work has been tied to commercial spaces all his life. One of his first buildings was the Slimák department store in Kukučínova Street of Bratislava's New Town. As the chief designer and later director of the State Project Institute of Trade (ŠPÚO), he co-operated on the buildings of the Prior department store network. The most important part of this network is the Prior department store at Kamenné námestíe in Bratislava. Matušík, in his thirties, carried out an extensive construction of a department store, hotel Kyjev as well as the adjacent ministry buildings. In 1969, he was awarded the Dušan Jurkovič Prize for the realization of the complex at Kamenné námestie.
Ivan Matušík led ŠPÚO until 1989. After the change of regime, he had no problem to continue creating. He designed an original solution for the castle grounds in Bratislava, for which he won the 1st prize in an architectural competition in 2002. After the year 2000 he focused mainly on residential houses. From his newer work we can mention the family house Patrium or the apartment house Triangolo. The Elipsion family house on the Senecké Lakes from 2002 has a special place here, which is characterized by the use of elliptical ribs and an atypical longitudinal shape. Ivan Matušík received the second Dušan Jurkovič award for this construction.