This stop with the original name Kukučínova was renamed Slovany on December 13th, 2020. The stop called Kukučínova is currently located at a nearby stop with the original name OD Slimák.
Martin Kukučín (1860 – 1928), born Matej Bencúr, was a Slovak doctor, writer, playwright and publicist.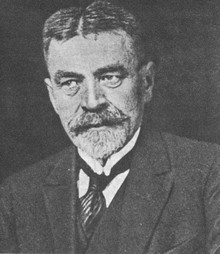 He was born in the village of Jasenová. He studied at the Evangelical grammar school in Revúca and Turčiansky Sv. Martin, in 1875 in Banská Bystrica, Kežmarok and subsequently in Sopron, Hungary. He originally wanted to study at a university in Bratislava, Department of Theology but due to the complicated national-political atmosphere, he decided to study medicine at the Faculty of Medicine of Charles-Ferdinand University in Prague. He worked in Bratislava, Innsbruck and Vienna. He could not find a satisfactory job in Slovakia, so he went to work abroad. In 1893 he obtained the position of a doctor in the village of Selca on the island of Brač, today's Croatia. In 1908 he and his wife emigrated from there to Chile. He passed professional examinations in the capital and subsequently obtained a job in Punta Arenas in Tierra del Fuego. He was the first doctor of the International Red Cross in Patagonia, and to this day the local hospital is named after him. He was also actively involved in local development, e.g. he served as a commander of the fire brigade.
Martin Kukučín was one of the important representatives of Slovak literary realism and modern Slovak prose. He was the author of novels and short stories such as Young years, Red heifer, When the puppet from Chochoľov dies, travelogues about Patagonia and also several dramatic works.
After the establishment of Czechoslovakia in 1918, he decided, like many other Slovak foreign intellectuals, to return to his native country and work there to elevate society in new national-political conditions. However, as a person with a cold relationship to closer Czech-Slovak cooperation, he was unable to adjust to the environment of the new republic. In 1924 he moved again to Croatia, where he eventually died. His remains were reverently transferred to the National Cemetery in Martin.
Some of his quotes have timeless significance. He spoke aptly for Národné noviny about the spiritual wealth of society: "A person who has lagged behind in culture is not a complete person. He has only the external shapes and contours of man, otherwise it is unconscious matter. An ordinary brute force that everyone uses and often abuses."
The Slimák department store which was one of the first buildings of the architect Ivan Matušík is also located in the vicinity of the Kukučínova stop.