The establishment of the station in the Nové Mesto quarter was connected with the reconstruction of the railway junction which involved the transfer of stations from the centre of Bratislava closer to its edges. We place the beginning of the station until 1957 by building its embankments. Initially, it was not involved in transport and only ensured the operation of work trains and small vehicles between the stations Bratislava – Predmestie and Bratislava – Podunajské Biskupice. It was put into proper operation only in 1962 and got the station building in 1964, when it was ceremoniously handed over to the public on the occasion of the 20th anniversary of the Slovak National Uprising. Behind its construction there is the architect Vojtech Fifik who designed several railway buildings. In addition to the station in Bratislava's New Town, e.g. the building of the Bratislava – Predmestie, Nové Zámky station or the reception hall of the railway station in Nitra.
The Nové Mesto railway station is divided into a central lobby building and two adjacent wings which house the operating system, offices and staff areas. The building of the vestibule has a conical shape and a slightly bent ledge which disrupts its static nature. It has an entrance on each side, allowing access from the tram and bus stop. The outer walls are equipped with a clock, an essential part of railway stations, the inner space is equipped with glass walls which illuminate it intensively. The vestibule has a high ceiling and in the past it was possible to go to the gallery by means of a five-arm staircase. The gallery is closed today. There was a waiting room for mothers with children, a restaurant, a barber shop and a cultural centre. Below the gallery there are ticket offices, from where a 6-metre-wide underpass leads to the platforms. The gallery is dominated by a wall painting with a railway theme by the academic painter František Gajdoš.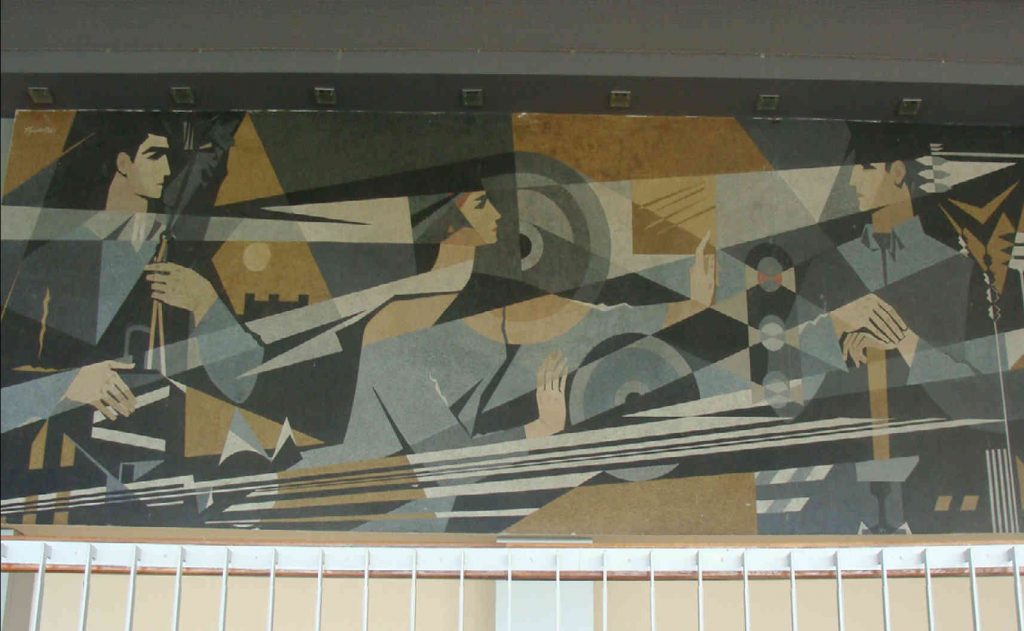 On the first platform, it is possible to see a bronze sculpture of the famous sculptor Tibor Bártfay irradiated by daylight penetrating through a semicircular hole in the ceiling. A flying figure showing movement and speed is associated with trains crossing the country.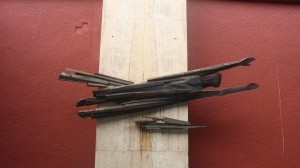 The lobby building and platforms were reconstructed in 2011 on the occasion of the World Ice Hockey Championships taking place in Bratislava. Other premises are waiting for their renovation.
Authors: Luboš Korenčík, Jana Babušiaková
Translation: Pavol Petrík